Tina's Story
TINA BARRETT'S HARROWING ACCOUNT OF THE KILLING OF HER 15 YEAR OLD BROTHER BY THE BRITISH ARMY IN 1981 | 23 October 2023
The following account reflects the total and all-encompassing impact of the murder of a much-loved fifteen-year-old boy on a family and his wider community. Tina's story graphically yet lovingly records the devastation of her brother's killing by a British soldier in the summer of 1981. This is not a story of a young man caught up in trouble or "in the wrong place at the wrong time". Danny Barrett was sitting on the garden wall of his own home, having just packed his bags to go on holiday.
He was shot in the throat a British army marksman. The single round severed young Danny's spinal cord. Had he somehow survived, Danny Barret would likely have been left completely paralysed.
As has happened in so many cases, the British Army did their best to excuse this wonton act of violence against an innocent child. Their lies were eventually exposed at inquest, but the damage done to the very fabric of the Barrett family and their way of life was already incalculable.
This story takes the reader past the headlines and the news bulletins and into the unending agony of bereavement, emotional and mental damage and social isolation which follows from the murder of a child. It is a highly personal account, written in a conversational style which underscores its honesty and integrity.

Tina's Story
Danny Barrett- Civilian, Catholic, 15, schoolboy. Murdered on his garden wall by the British Army in North Belfast on 9th July 1981.
Tina is Danny's youngest sister; this is her story.
My name is Tina Barrett, I am the youngest of a family of four. My parents were Molly (nee Hale) and Jimmy Barrett. Susan was born in 1964, Danny 1965, Conn in 1969 and myself in 1974.
We all were born in Hooker Street, Ardoyne, except for Susan. She was born in Tyrone Street, Carrick hill. In May 1980 we were rehoused into a new development. Our address was 11 Havana Court.
Everything Changes
"BANG! F**K UP! LIE DOWN!" This was the voice of one of Danny's friends, as he grabbed me and threw me onto the sofa with him beside me.
Mayhem! Panic! Fear! Ambulance! Soldiers! Lots of noise!
"Tina, Danny's dead", the voice of my father, 39-year-old Jimmy Barrett. He was collecting me from a neighbour's house as he had been to fetch my mammy, 37-year-old Molly Barrett who had been visiting a friend at the time of shooting.
Joe McDonnell had just died on Hunger Strike and there was a lot of tension in the area. People were angry that another Hunger Striker had died. The local disco which Danny and his friends had planned to go to had been empty, so he and his friends came back to our house, at Havana Court.
Danny was sitting on our garden wall with his two hands under his thighs. My daddy, myself, and my 17-year-old sister Susan were in the porch beside him. Danny's mates were all in the garden. The British Army fired from their observation post in Flax Street and wiped out our Danny's life in a second.
The soldiers came and raided our home and searched through my schoolbooks. I remember being petrified when I saw them as I was so afraid of them killing somebody else. I remember waking up from sleep that night and crying. As I walked downstairs there wasn't standing room for anybody. Our family home was packed with people. As I got to the stairs, I remember realising that I had soiled myself. I recall crying and trembling uncontrollably.
Unbeknownst to me, a 7-year-old petrified child, this was the beginning of life changing circumstances within our family home.
Night-time darkness, fear, soldiers! That's how I felt as a child in bed. I no longer felt safe in our family home. The nightmares began and they never really went away. One night I was physically trying to get through the venetian blind to get away from the soldiers. I remember my daddy soothing me, trying to bring me round. "It's not real Tina. It's over."
A prescription for sleeping medicine was prescribed and I remained on that for quite a number of years. I was seven years old and on prescription medication. After the nightmares I wouldn't settle well back into a night's sleep. I was petrified to close my eyes because I didn't want to see the soldiers.
Hunger strikes, black flag marches, bin lids, sirens. This was all a way of life now. What else is going to happen to us?
Life was never ever the same after Danny's brutal murder. The day the British Army murdered my innocent 15-year-old brother, they also killed the inner core of my precious parents. My daddy was seen to be the stronger one, my mammy became frozen. Frozen in grief and frozen in life. Danny's murder impacted each and every one of us. "Why did the soldiers have to kill Danny?". They robbed our Danny of his life, and they robbed me of my Mammy!
Life was really not happy anymore. Everybody was always sad. My heartbroken Mammy spent most of her days in bed. 
My family devastated by grief
My story – My grief
My mammy got my friend Siobhan, who lived two doors up from me at the time (incidentally, we are again two doors apart rearing our own families) to take me up to the hairdressers and my beautiful long blonde hair was cut into a more manageable style that my mammy could cope with.
Before and after
We were always well cared for and well-nourished and we were blessed with the most precious parents imaginable. My daddy adored my mammy and each one of us. He was the type of Daddy that made us all think we were his favourite.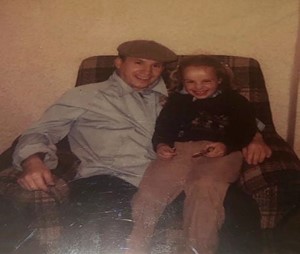 Me with Daddy in the good days
He always made our lives easier. He was the type of daddy that was hands on with everything. He took us to doctors, dentists, swimmers, schools etc. Just a good decent family man. My mammy and him were childhood sweethearts and a devoted couple. They married young and had their family of two girls and two boys. Life was good for them before the murder of Danny. They hadn't much but they had each other.
I remember my daddy had to go into hospital for some time and it was a difficult stage for me, for us all. I cried sore every night for him. He was my security blanket and I missed him beyond words.
His admittance to hospital was all in relation to Danny's murder that he had witnessed, and they needed my daddy to break - to cry! He was put into a padded room and the doctor said.
"Go on Jimmy, what would you do to the soldier that murdered your wee innocent son". Their job was done, and my daddy was allowed back home to us.
My mammy also had to go into hospital for psychiatric treatment, and I remember it was coming up to Christmas 1982. My daddy had me and Conn in the town to get us clothes and things for Christmas. This was a job my mammy would have been doing with us. I remember he took us into Leisure World and said to me "What kind of doll do you want Santa to bring you?". I remember picking the doll I wanted, he told Conn and I to wait outside together. I turned around and saw my daddy lifting the doll and paying for it at the tills.
We struggled daily; 12-year-old Conn was always in his bedroom. Danny and he had shared a room. Conn didn't speak about Danny to anyone, and it remains the very same to this day. By this stage I was an addict to nicotine. Hard to believe a child as young as myself was a genuine smoker.
Susan got married in 1983, she had her first baby, and with pride he was named Danny, after his uncle Danny whom he never got the chance to meet. He was the greatest treasure of all. A first-born grandchild on both sides. We all equally loved and adored him. I remember my mammy ripping up her and my daddy's appointment cards for psychiatric care. She said, "We have him now. We don't need to go". Life was brightening up a little. This wee bundle of joy was so well loved and adored, and his timing was absolutely perfect.
Danny Scullion was only four and a half years old, when he was killed in a road traffic accident in Dundalk, Co Louth.
Life was so dark and dull. We all were in so much disbelief. It was 21st May 1988, he went for a drive and a picnic with his granny Sally and some other family members, and they planned to be back home that evening. The Garda crashed into them as they were turning onto a main road. Danny died of internal injuries.
Then the hospital in Co Louth contacted Holy Cross Chapel to advise them to let the family know about the tragedy. When the priest approached Susan at her home to tell her the news, she ran away from him squealing "NO". She ran to our house and my mammy was in so much disbelief she said "Susan there must be a mix-up. That priest must be new here and he's talking about our Danny".
Darkness, silence, I knew our house was different from my friends' homes.
My mammy hated Christmas and always felt Danny was losing out. She always made sure we got plenty but there was never any real Christmas cheer. From a young age I can remember being aware that certain times things were really bad at home in terms of watching my mammy's pain and grief. If it was our Danny's birthday or his anniversary or any set time at all, she would have gone to bed. She never really got on with life again.
It didn't matter how many times my mammy cried. Watching her was never easy. Watching her suffer was something I never got used to. Yet it always happened, and each and every time I was hurting so much inside for my precious mammy. Her pain was unbearable to watch.
My daddy grieved differently. He was the stronger of my parents. He was my mammy's eyes when she couldn't see. He was her voice …….

My daddy liked to talk through things with you. I remember one day - I must have been caught smoking again. He decided a good talk and walk was needed. We were approaching the Oldpark. A minibus crammed with woman going to Armagh Gaol and a friend Jean Markey (RIP), shouted "Jimmy, where youse for?". He said, "A dander, Jean". She said, "send Tina to me and I'll give her a day's outing". I jumped onto the bus with Jean and what a day we had with flasks of tea, tinfoil wrapped sandwiches and plenty of wee sneaky puffs on the way.
The Inquest
At Danny's inquest soldier A and soldier B both said our Danny had a gun. Soldier A said he saw a puff of smoke and shot back from the observation post in Flax Street.
My daddy jumped up and ran to the soldier and punched the head off him and my uncle Danny Hale joined him. The cowardly murderer leapt the tables like a kangaroo to get away from my daddy and uncle Danny.
The RUC officer said to my daddy in the court. "Mr. Barrett, I don't know how you listened to his lies for so long".
It took the jury 5 minutes to return with their verdict that our Danny was an innocent child murdered at his front door by a soldier in the British Army. Danny's mates carried my daddy up the Crumlin Road. He had got some piece of satisfaction.
Short lived …
As a teenager I noticed I was always very nervous. Biting my nails. Jumping out of my skin if anyone crept up behind me. The screams of me always left the culprit in a worse state. I couldn't count the number of sleepless nights. The nightmares were just part of life now. The doctor had me on Diazepam for daytime and Temazepam for bedtime to try and help me sleep.
I soon learned that a few drinks and you got a bit better sleep. I suppose I could say I enjoyed myself for many years and was no stranger to having a good time. I loved holidays. I remember going to Spain and whilst I was there my nails grew. Once we got home, I would bite them all again.
When I turned 18, I got compensated for the murder of my innocent brother Danny who now became "my wee brother".
I was awarded the highest compensation amongst everyone. Conn was excluded. Conn had not been present when Danny was murdered. He was seen to be "unaffected" by his older brother's murder with whom he shared his bedroom. They went to the same schools and were inseparable. Danny was his big and only brother.
 My memory of school is quite limited.  I managed a few GCSEs and typing exams.   Many days of non-attendance were due to the medication I had been prescribed to help with nightmares and sleep disturbances. The exams landed me a job as Credit Control Clerk, in a company in the Belfast docks. It was a day out of Ardoyne. I think this would have been my second time ever to meet anyone from the Protestant community. The first was with Euro Children when I was at school.
I enjoyed working there and I met some good friends and to this day remain in contact with them. However, I was also faced with a lot of sectarian workers who wanted to pin a poppy on me because I refused to contribute to the "poppy appeal".
Channel 4 were doing a programme on "Children of the Troubles". I took part in this programme and they used the clip from my story to advertise it coming up, so it wasn't a surprise that my colleagues knew it was coming on. When another employee asked someone, who was my senior, if they would be watching Tina tonight on TV. Their reply was "Indeed I will not. I'll be watching NYPD Blue. If his mother had kept him in the house, he would still be here today". That statement, referring to my murdered brother, was directed at me.
Again, my life was a battle. Things got very tense when the funerals of the victims of the Shankill Bomb were televised. Every single person was devastated about the victims of the bomb and their families. Seeing this on TV in the workplace was very difficult.
The TV was put on my desk, right in front of me and as the funerals were shown somebody commented, "The bombers were from where you live, Tina, Isn't that right?"
I had many challenges working within a predominantly Protestant workforce. I also had many friends within the Company. One guy was leaving to go to another job. He invited me to the Portside for his leaving do. As we were chatting away, he quietly said to me "You know Tina, I was warned not to invite you here tonight for my own safety!". I was completely in shock! stunned! I found out soon after that he was leaving to be full time in the Police Force. I had pictures of that night and once they were shown in the office, every picture of him went missing! And the negatives!
I would have rung my daddy if it was getting tight in the office, and he would go to Bridge Street to meet me at lunchtime. The company had a minibus to pick workers up in the morning outside the Belfast Telegraph building and it also took you in and out of town at lunch hour.
It was a tough morning. It was my 21st birthday on the Saturday. On the Friday, my department had got a cake for my boss, his birthday was that day, it was just an ordinary birthday. They all congregated and sang happy birthday. I immediately turned around on my chair assuming the song being sung was for myself. No, they ignored my birthday. It wasn't until later when years had passed that I would be thinking over such sad acts from grown adults who should have known better than to treat me so callously.
My daddy would have said to me, "You're in a great wee job and you're in the minority Tina, don't you give them the satisfaction and leave". Years ago, Catholics would never have got the chance for a job in the docks.
My Mammy and daddy god bless them were very proud that I had gotten myself a good wee job as they called it. I listened to him and stood my corner. It worked. I remained there until 2002. Then they were making changes within the Company and offered redundancy, to which I agreed.
Not long after my redundancy I got a local job practically on my doorstep, in a cancer charity in 2002 as an administrator. This was my perfect role for me. I spent a lot of my time interacting with the clients as well as administrator duties. The joy and job satisfaction I got from my role was amazing. What an honour to be part of someone's cancer journey.
On 23rd March 2002, my world crashed. My precious daddy Jimmy Barrett died suddenly. He was only 60 years old. A man that never once abused his health. The doctor who attended our family home that Saturday morning said my daddy more than likely died of a blood clot. After I lost my daddy, my world really changed. Life was never ever the same. The security he provided, just by a glance, was gone.
My daddy was missed beyond measure. My first daughter Niamh had the pleasure of him for her first 2 years but my other two weren't so lucky. He adored us and that was it. I adored him and he knew it. I didn't stop with him. When I got a car, he always got me to drive him into the town and go to people he knew to fix things. He enjoyed offering my services as a taxi to others.
He was my Hero; you knew you were safe with him.
By this stage, my mammy's health had deteriorated. She was asthmatic and had C.O.P.D. It was hard for people to understand but I always knew to go easy with my mammy. You couldn't surprise her with a ticket for a show or a dinner. She just didn't go in for anything. To buy her a gift was nearly impossible. She wasn't able to have perfume with her asthma and she didn't wear makeup. She just didn't celebrate, and it was hard to be part of that at times because as a young girl I was always very outgoing. So, my enthusiasm about things would have driven her mad.
Then on 24th May 2017 our precious mammy Molly passed away aged 72. She honestly cried from the day Danny died until the day she died.
She grieved for three decades.

Danny's friends became our friends. They continued to visit throughout the years and most recently they organised a mural for his 40th Anniversary. His best friend Micky Holland named his only son Danny in honour of him.
Unfortunately, my own health has suffered greatly and in October (2020) I was critically ill. I'm forever grateful to have survived two cardiac arrests. Despite every artery in my body being clear I was diagnosed with Dilated Cardiomyopathy.
I am truly blessed with my family today. I have my partner whom I owe my life –
He came into our lives when me and my own children were put through an unbelievable experience. For him I will be forever grateful. Thank you for everything you do for us all.
My own children didn't get things easy. They suffered a lot of pain. Their surnames were changed in 2017 to their rightful surname - Barrett. This gives me so much strength as our name was almost extinct. Now the Barrett family name is going places.
Thanks for taking time to read my story.
Tina x