British army plan to 'check UDR guns for murder links'
British army plan to 'check UDR guns for murder links'
Connla Young, Irish News | 22 March 2022
The Irish News front page of 22 March 2022 covers 'UDR Declassified'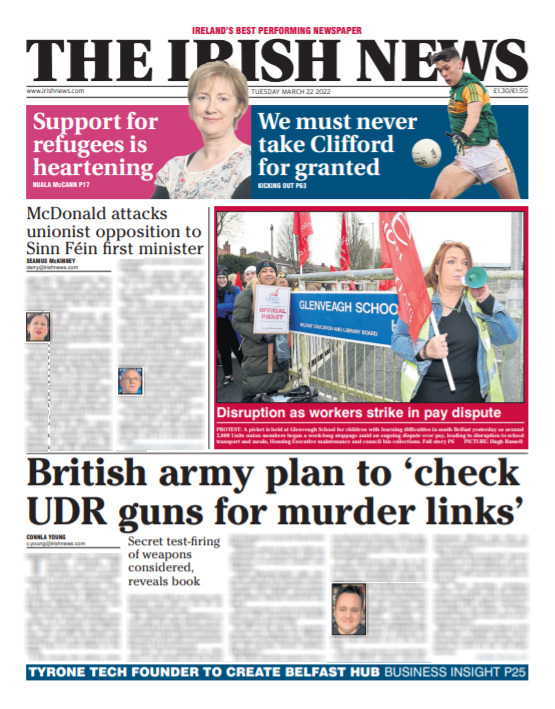 THE British army considered secretly test-firing UDR weapons to check if they had been used in sectarian murders, a new book has revealed.
UDR Declassified exposes some of the controversial regiment's activities, drawing on official Downing Street. Ministry of Defence and Northern Ireland Office records.
The book reveals shocking fresh details of an internal investigation for "fraud, corruption and subversion" into 10 UDR, the Belfast city battalion, which was based at Girdwood Park in north Belfast in the 1970s.
It also reveals that military chiefs believed the UDR was colluding with loyalists soon after it was set up more than 50 years ago.
The regiment was established in 1970 after the Hunt Report recommended that a locally recruited force replace the Ulster Special Constabulary (USC) in the wake of widespread disorder the previous year.
It went out of existence in 1992 when it was merged with the Royal Irish Rangers to form the Royal Irish Regiment.
From its earliest days the UDR was embroiled in controversy amid al legations of sectarian conduct and collusion.
Author Micheál Smith, right, who works with the Pat Finucane Centre, has used official documents to piece together how British government and military officials viewed the regiment.
He reveals that a series of meetings held in 1978 concerned an internal investigation into 10 UDR.
He said at the time two separate probes were launched by different branches of the British army, including 120 Security Section (military intelligence).
Mr Smith said that minutes from a meeting held in February 1978 to discuss "crime and security" in 10 UDR provided a synopsis of the separate investigations.
It was discovered that up to 70 members of the battalion had links to loyalist paramilitary groups at some level - including a member of the Shankill Butchers.
It was also suspected that up to 30 members of the battalion had engaged in large-scale fraud, claiming an amount estimated between $30,000-$47.000 which is believed to have been passed on to the local UVF.
The Security Section revealed that "certain SNCOs (senior non-commissioned officers) had been involved or were involved in paramilitary activities".
The probe also found that "known members of para-military [sic] organisations" were allowed to socialise in the UDR messes and clubs at the base.
The most shocking revelation centres on claims that the British army considered "secret methods of test-firing UDR soldiers' weapons, according to the author, "to check whether they had been used in sectarian murders".
Minutes of a meeting in March 1978 show that a British armed forces shooting competition was later proposed as cover for the "test firing" exercise.