Families Challenge MoD and Prime Minister in London
Families Challenge MoD and Prime Minister in London
Pat Finucane Centre | 26 October 2017
In November 2016 the families of Christopher Quinn and Kevin Heatley along with the Pat Finucane Centre utilised Advans in London to highlight the murders of their relatives and the appalling treatment they endured after the killings, in response to Theresa May's comments on those pushing for human rights.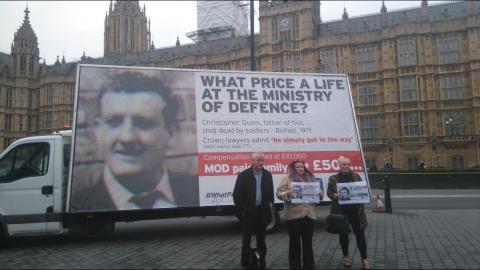 In September, British Prime Minister Theresa May warned the Tory party conference about what she called:  "… activist, left-wing human rights lawyers  [who]  harangue and harass the bravest of the brave – the men and women of Britain's Armed Forces".  She also vowed to defend soldiers against "vexatious allegations" arising from conflicts including those in N. Ireland, Iraq and Afghanistan.
A number of Irish families hit back with a week-long publicity campaign on the streets of London that highlighted the appalling way they were treated following the killings of their loved-ones by British soldiers. 
An Ad Van will circulated through central London between Tuesday Nov 15 and Saturday Nov 19 focusing on the cases of Christopher Quinn, a father of five children, and 12-year-old Kevin Heatley,  both shot dead by soldiers. 
Declassified MoD documents reveal that only £500 was paid to the Quinn family despite internal MoD advice that the case was valued at £10,000. The family of Kevin Heatley was offered a derisory £750 because this was 'the acceptable rate for a minor', according to the MoD.
Roberta Quinn, daughter of Christopher, said: "My mother was left to raise five children and scrape to make ends meet after my father's shooting.  How dare Theresa May talk about 'vexatious allegations' when we see the MoD was prepared to drag my mother through the courts and ended up paying her a miserly £500 knowing that my father was an innocent man?"

Advan in London highlighting the case of Christopher Quinn

 
Kevin Heatley's brother, Martin, asked:  "Who could have been so cruel and heartless to say that the 'acceptable rate for a minor' shot in the head by a soldier, was £750?  This was the final blow for my parents. The MoD offered us about £60 for each year Kevin lived. What an insult'. 
Paul O'Connor of the PFC  added: "These two selected cases are just the tip of the iceberg. We support another family where £84.07 was offered after soldiers shot a mother-of-six. (Kathleen Thomson,  November 1971) and another where £750 was paid to the family of a 27-year-old vulnerable adult, John Patrick Cunningham, described in the Regimental Log of the Life Guards Regiment as 'the village idiot' after his shooting in 1974. Is this why his family was offered the rate normally reserved for "minors"?
"The MoD stands guilty of decades of racist and often illegal behaviour in response to wrong-doing by British soldiers. A culture of impunity still exists in respect of the actions of the British military in Iraq and Afghanistan." 
In respect to Kevin Heatley, a soldier was convicted of unlawful killing but was released on bail a week later pending appeal and went on to win his appeal. Kevin Heatley's dad took his own life soon after.