Henry Cunningham Human Rights Essay Competition 2019
Henry Cunningham Human Rights Essay Competition 2019
| 28 February 2019
On August 9 1973 gunmen opened fire from a bridge over the M2 motorway at a van carrying workmen back to Donegal from a building site near Glengormley. 16 year Henry Cunningham was sitting in the front of the Bedford van when he was shot. He died soon after.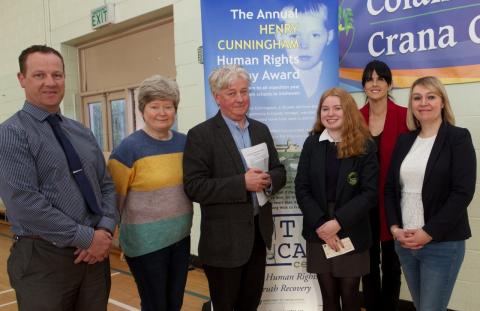 Image: Tom Heaney, Inish Times. Crana College student Stella Keany, winner of the annual Henry Cunningham Human Rights Essay Award. Included, from left, are Kevin Cooley, principal, Crana College, Paul O'Connor (Pat Finucane Centre), and, from right, Freelance journalist Freya McClements (judge) and Sylvia McSheffrey, teacher
Each year the PFC hold a Human Rights Essay competition to encourage young people within the Inishowen area to think about and engage with human rights issues. The annual Henry Cunningham Human Rights prize of €500 is then awarded to the student who produces the best essay. This year the essay topic was
"Is the world a better place thanks to social media?"
The judge this year was Freya McClements, a writer and journalist from Derry.  Freya was a staff journalist with the BBC in Northern Ireland for ten years, and now writes for the Irish Times and continues to produce and present documentaries for BBC Radio 4 and BBC Radio Ulster.  She is the author of the short story collection The Dangerous Edge of Things (Guildhall Press, 2012), and is currently co-writing a book on the children who were killed during Northern Ireland's 'Troubles' which will be published in autumn 2019.    
The winner was Stella Keany from Crana College. Freya said
"Stella's essay was an authoritative, comprehensive and engaging look at the complex world of social media.  From the start she made it clear that she was considering the subject in its global context and established clearly why social media is of relevance to us all.  She demonstrated good use of research and has clearly put significant thought into considering the many implications of social media use, from the potential impact on young people's mental health to its role in promoting free speech.  Given the subject of the award, I was particularly impressed to see her acknowledge the implications of social media for activists and human rights campaigners across the world.  As Stella concluded, "Social media is here to stay.  The real question should be how we can make social media a better place for everyone."
Highly commended:
Rachel McCourt, Moville Community College
Katelyn McDaid, Carndonagh Community School
Danielle McDermott, Moville Community College
Ryan McGrath, Crana College
This prize is sponsored by the Department of Foreign Affairs.