Remembering the Annie's Bar Massacre
Remembering the Annie's Bar Massacre
Sara Duddy, PFC, Derry News | 21 December 2017
On Wednesday 20th December 1972, five men were murdered at Annie's Bar as they watched the mid-week football. This week, on the 45th anniversary of their deaths, we remember them.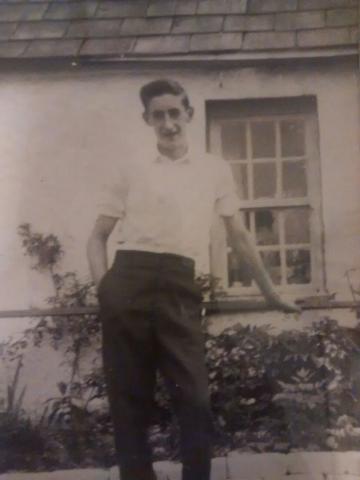 Five days before Christmas. Last minute presents, shopping lists prepared for the big shop, last few days of work before a well-earned break. Very excited children enjoying the last week of school with nativity plays, Christmas parties and visits to Santa. Comforting traditions.
However this week, in the middle of the all the Christmas bustle, those affected by the Annie's Bar Massacre paused to remember their loved ones murdered 45 years ago during a service at St. Columb's Church. They were Charlie McCafferty, Frank McCarron, Charles Moore, Barney Kelly and Michael McGinley.
On Wednesday 20th December 1972 regulars gathered at the Top of the Hill Bar, known locally as Annie's Bar, to watch the mid-week football match. The bar was crowded, and the mood was festive. Shortly after ten thirty the bar door opened and two men, armed with a sub-machine gun and a pistol, entered. The gunmen sprayed the room indiscriminately with bullets.  The attack reportedly took just seconds, but it left five men dead and four injured.
The attacked was carried out by the Ulster Defence Association (UDA) and is believed to have been in retaliation for the murder of a UDR man and father of one, George Hamilton (28), who had been killed by the IRA earlier that day.
It is shocking that at this time the UDA was a legal organisation. It was not proscribed until 1992 and was responsible for over 400 deaths during the conflict. Declassified British government documents from 1972 show that the UDA was considered a "safety valve" by the Ministry of Defence, who urged a moderate line be taken when dealing with the UDA and even argued that the organisation should remain legal.
Although clearly a sectarian attack, among the dead was one protestant, Charles Moore.
Charles (31) was a nursing assistant and had two daughters when he was killed. A third daughter was born just three weeks later.
Charlie McCafferty (31) had seven children, five step-children and a son, Kevin, (2) and daughter, Lisa, (10 months) when he was murdered.
Barney Kelly (26) was expecting his first child with his wife Marie, the couple had married just three months earlier.
Frank McCarron was the oldest victim at 58. He was a widow and had six daughters and a son.
Michael McGinley (37) had played with his 7 month old daughter earlier that night.
The cruelty of these actions at any time is hard to understand, but at Christmas time they are truly incomprehensible.  Eight people had been killed across the north that day, six in Derry. Throughout the conflict hundreds of families, from all communities and backgrounds, had loved ones killed in the mouth of Christmas. Just a year earlier fifteen people, including two children, were killed by a loyalist bomb in McGurk's Bar in Belfast.
The father of a friend and colleague within the PFC was murdered along with two others on 19th December 1975. He had stopped for a drink at Donnelly's Bar in Silverbridge to celebrate the birth of his first daughter two days earlier, having just come from the hospital. Loyalist gunmen, including members of the security forces, attacked the bar with guns before throwing in a bomb to ensure maximum carnage.
No side has a monopoly on the hurt and grief. I recently spoke to a woman whose brother was murdered by the IRA four decades ago. Her family doesn't celebrate Christmas. They go through the motions of decorations and Christmas dinner, but there is no festive cheer.
This Christmas, in the middle of all the usual stresses, preparation and celebrations, take a moment to remember those that are absent and the impact of their loss on their families and community. In particular remember those killed in Annie's Bar and George Hamilton, the UDR member killed earlier that day in Derry.