Public Meeting (29 June) - "Collusion - The Hard Evidence"
Public Meeting (29 June) - "Collusion - The Hard Evidence"
Pat Finucane Centre/Justice for the Forgotten | 27 June 2017
Margaret Urwin of JFF and Anne Cadwallader of the PFC will present evidence from previously "Top Secret" British government files proving that collusion between London and the UDA/UVF was widespread throughout the conflict.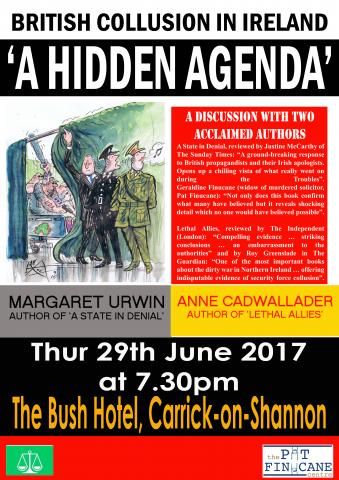 British government ministers, senior police officers and leading unionist politicians often admit that "rogue" personnel within the RUC and British Army worked alongside the two main loyalist paramilitary groups.
But they never admit or accept that this was government policy - claiming instead it was just a "few bad apples".  We say otherwise.
Over the last 10-15 years, both the PFC and JFF have been amassing evidence that London decided, from an early point in the conflict, that it would use the UDA and UVF as surrogate killer gangs.
At this meeting, Margaret and Anne will present just some of the original and convincing evidence for this startling (to some) conclusion and will answer questions from the floor.
We are thankful to John Cronogue of the local Sinn Fein cumann for organising this public event to which all are welcome.