Glenanne Families Demand Action From PSNI
Glenanne Families Demand Action From PSNI
The Pat Finucane Centre | 06 November 2017
Families bereaved in the "Glenanne" series of murders have heard a lawyer acting for the Police Service of Northern Ireland admit that nothing has been done in three months to resolve its continuing breach of their human rights.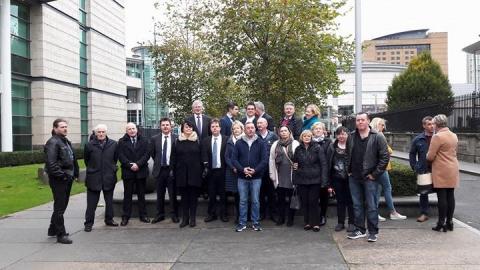 Over 25 relatives of people killed by the "Glenanne Gang" were in court this morning (6 Nov 2017) eagerly awaiting to hear what progress has been made towards resolving the PSNI's abuse of their human rights.
The High Court in Belfast had ruled on 28 July that in suppressing a planned thematic report into the killings, the PSNI had acted with "extreme" unfairness towards their legitimate expectations.
The court had ruled there was evidence of state collusion in the murders and that an independent, properly resourced inquiry should be agreed between the families and the PSNI as redress.
The court had given the PSNI six weeks to come up with a resolution - but in court today (three months on) a lawyer for the force, challenged by Mr. Justice Seamus Treacy, agreed that no progress had been made to date.
Justice Treacy will rule tomorrow (7 Nov) on whether an order of "mandamus" should be made against the PSNI which would compel the force to take action.